We're hiring!
And you may be just who we're looking for! You may be amazing and talented at your profession, and willing to learn new things and bring your whole self to work. You may be all those things – and yet, perhaps you may prefer another place to work than here.
That's a strange way to start a job description perhaps, but it's true! A lot of people we meet want to have a normal job with a boss who tells you what you can and cannot do. A boss who you can go to with complaints and someone who will fix your problems for you. Especially if those problems are outside of your comfort zone, like handling conflicts or talking to customers about delays in your project.
We don't have managers at Axess Lab
So if you are like the people above – you probably don't want to work here.
If you're still reading this however, you may be interested in how we run the company without a boss – and why it's a fantastic place to work for those who embrace it!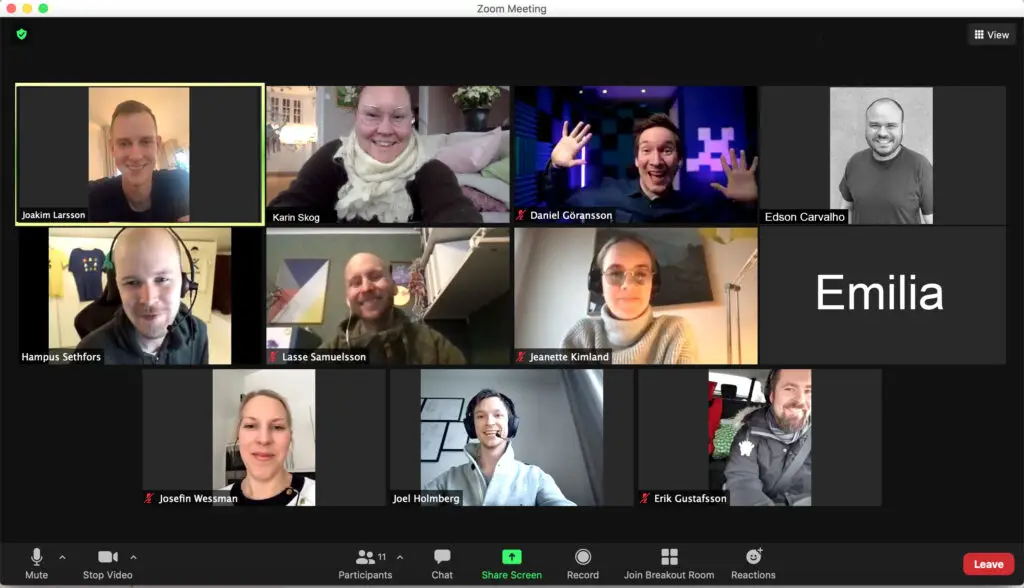 Instead of a manager you are given these things on your first day at the company:
A company credit card with no limit (the limit is when we have no more cash)
Full insight into all financial data like salaries, prices, shareholders etc. (We have a radical view on transparency)
A personalized on-boarding plan with issues to complete that take you through all our processes and systems.
Complete trust!
A list of projects that you can join as a developer, UX-designer, Project manager or wherever your experience lies
A list of new responsibilities to select from, learn, and start doing. Like "Sending monthly time reports for the team to the salary group" or "Planning and arranging conferences and company parties" or "Managing Google Ads"
Full responsibility of your own work situation. You don't like something? Change it!
A template to use when motivating and setting your own salary.
As you may imagine, hiring someone for a position at Axess Lab takes some guts! We have to be sure that you will be able to handle this way of working, as well as enjoy it! There's no point in tricking people into working here who will just miss "ye olde boss" once they start taking on true responsibilities.
Does "no boss" mean everyone does whatever they want? No!
You can think of it like this – whenever you would normally "ask your boss" we instead use the "advice process". For small decisions that affect mostly your self – just do it. For larger decisions that affect others – ask a colleague with more experience in the question for advice! Then just do it!
We are all expected to spend about 20-30% of our time working on company related responsibilities over the long run. Full time assignments are OK for shorter periods as long as not everyone does them all the time (then who would have time to pay the salaries?)
As time goes, and as colleagues get more secure in their professional roles, they take on more and trickier company responsibilities. But that does not make them a manager with the power to force other employees to do stuff! You can only suggest improvements and make them for your self, never force someone else to do them. So if you want people to change – you need to win them over with good arguments and inspiring leadership 😀
What do we do the rest of the time?
That's up to you! We always listen to what drives the people in our company. And that may change from year to year.
Currently we who work here have one thing in common – we are very good with technology and have experience in software development, design or project management.
We also share the desire to use our knowledge for good. This has lead us to focus on the niche called "Digital Accessibility" – making sure websites and apps work well for people with disabilities. We build them and help others build them. We test existing stuff and help the owners make improvements so they can be used by everyone. We educate and we inspire. We spread the word of accessibility in any way we can!
Does this mean we will always work only with accessibility? No! If we find new ambitions and inspirations that we believe can work sustainably as a company effort – we can do them! There is no CEO stating a "vision" that everyone must follow. Instead we listen. We listen to the market – what customers want and need. We listen to the ambitions of our colleagues – what do we want to learn next? We listen to users – what would help them the most? Then we adapt. We change and we evolve as an organism, always reacting to our surroundings.
But for now, with a growing market and a sense of purpose in our work – yeah – we will probably be working a lot with accessibility 😀
What would you do here?
Currently we are looking for these roles:
If you don't match the roles perfectly, but think you would be a great fit for us anyways, feel free to send a spontaneous application to hello@axesslab.com
No matter what role you have when entering the company you will be expected to run this company together with us. That means you will never again be able to say "Someone should fix this!" or "That's not in my job description". If you want something changed – you have the power and the means to change it here! Need help – ask! We are very helpful and understanding – not everyone has run a company before!
Need some time to study before starting an assignment? Do it! Need to take an online course to be able to take on a new responsibility – do it!
Soft values
We care more about finding the right people to join the team than if you have the right skills on your CV, one can always learn those!
Here is a long list of professional and personality traits we value highly at Axess Lab. If you identify with many of them that's a great first step – but you don't have to align with all of them!
Conveys information so that others easily understand it
Engages people to get involved
Acts independently when needed
Actively helps others
Works with others to collectively solve a task
Deals with information and multiple work tasks in parallel
Prioritizes from the big picture, of what needs doing, and in what order
Chooses the path that adds the most value to the business
Builds and strengthens relations
Plans and works systematically
Starts and actively pursues change
Explores development potential
Seeks and dares to try unconventional perspectives and ideas
We are a very helpful and open group of people, so if you ever feel unsure of anything – just ask!
Benefits
We may still count as a startup but we have the benefits of a mature company:
Market salaries (you set it yourself responsibly)
Collective agreement (Fremia)
ITP pensions
Flexible work hours to simplify life
Add vacation days or extra pension if you prefer it over extra salary
5000 kr/year health care benefits
Your own credit card – buy everything you need to work – and to be happy at work!
Extra 10% parental leave pay
Work from anywhere (we have a centrally located office though – feel free to use it)
Educations – find em, buy em, do em – use the card!
Bring kids and pets to the office <3
Meeting times adapted to "parent lifestyle"
No boss!
This way of  working – with no boss and lots of freedom under responsibility is not for everyone. But we think we speak for all of us when we say:
We wouldn't change it for anything!

Josefin Wessman – Accessibility Specialist
Joel Holmberg – Lead Developer
Jeanette Kimland – UX designer